IN PLACE
Tarmac Adam are back with In Place, an album hewn from road-worn meditation, a beautiful album of open-hearted, stoic affirmation.
After the inward-gaze of their 2013 album The History Effect, songwriters Matt O'Donnell and Steve Paix, along with drummer Josh Barber and Crowded House bassist Nick Seymour, have shifted their focus: In Place reaches out, like the ever expanding circles on the album cover, and attempts the unthinkable – a universal message in these increasingly segmented, fragmented times.
In 2013 the band took their last album from their hometown Melbourne, Australia to the US – traversing the length and breadth of the country, performing on radio and TV. Gigs in venues and tiny rooms won rave reviews. There was something about the shimmering melancholic pop music that seemed to connect with audiences. Wherever they went, the songs of Tarmac Adam felt 'in place'. It wasn't lost on them when writing the new album.
Now In Place, while full of their trademark self-questioning and an almost hushed aura of regretful longing, fuses this with optimism – kicking straight off with A Town Called Mercy's plea for compassion and humility, as the first pieces of the album's jigsaw begin to fall 'in place'.
What keeps coming back, through all the songs, is the sense that we should look up from our device-led divisiveness, this 'kind of' life we are living, and choose, in the words of Blindside, a 'kinder life'. It's there in the strength-from-adversity of Begin To Mend, it's there in the joyous Today's The Day's affirmation: 'There's nothing as important. There is no other moment.' It's there weaving its way through the understated beauty of these songs, this need to connect with others: 'It's the loneliest journey a man can take. Carry the burden for others' sake.' And it reaches its apogee in perhaps the album's centrepoint, the so-unheroically named Afterthought, which celebrates 'finding an essence in something more than "what about me"' and revolves around two words that are so sadly missing from today's dialogue: 'Difference. Matters.'
And for the many lovers of Tarmac Adam's last album, In Place offers another superbly crafted, rich and soulful musical journey. In a musical landscape of florid spruikers, In Place engages you like an old friend.
Reach out. Connect. Bear the burden. Make a difference. Rise above. This is the mantra of In Place. It's a bold move, a message so simple, yet so conspicuously absent from today's narrative. It's what makes Tarmac Adam's latest album, the product of thousands of miles and lifetimes of experience, so timeless, and wherever it may be played, so quintessentially – 'in place'.
BIOGRAPHY
Tarmac Adam was formed in Melbourne, Australia, releasing its debut record Handheld Torch in 2003. Emerging out of the Melbourne indie music scene, singer/guitarist Matt O'Donnell had been working-up ideas for his second solo album whilst touring the US and Europe. Upon his return he connected with guitarist Sean McVitty to produce dreamlike early versions of the songs in 2001, before being introduced to Paul Hester, local personality and legendary drummer of Crowded House fame. Hester relocated the recording sessions into his backyard Sunshine Studios, adding his unmistakeable rhythmic signature to a few tracks. When fellow Crowded House member, bassist Nick Seymour, contacted Hester on a visit from his newly-adopted home of Dublin, Ireland, he was given a listen to Paul's new project. Immediately recognising the material's potential, Seymour put up his hand to produce and perform the songs. Further production in Nick's studio in Dublin was followed by the addition of keyboardist Steve Paix, who along with O'Donnell completed the tracks in houses-turned-studios dotted around the bayside suburbs of Melbourne.
The soon-to-be unmistakeable Tarmac Adam sound was realised when Rob Feaster, a US engineer with a resumé that reads like a who's-who of recording artists, signed up to mix the record.
The album was met with enthusiastic reviews, not least by Crowded House fans thrilled to be hearing their favourite rhythm section playing together again.
O'Donnell, Hester, Seymour, McVitty and Paix performed promo shows in Sydney and Melbourne, and soon attracted a loyal following of listeners beguiled by the new but somehow familiar sound.
Fast-forward ten years: the world had mourned the loss of Paul Hester. New experiences and perspectives on the vicissitudes and triumphs of life prompted O'Donnell and Paix to commence work on another batch of songs. Seymour was back on bass, recording in between surfing sessions on Victoria's coast. Scotland-via-Sydney drummer, Ruben Alexander was enlisted to lay down the grooves, and young gun Josh Barber's percussion put the icing on the cake. The new record, The History Effect, was recorded in TA's studio in South Melbourne, completed in Nashville's hallowed Quad Studios and once again mixed by Feaster. This was tightly-arranged indie pop: the clear baritone of O'Donnell supported by a scaffolding of layered guitars, harmonies and keyboards.
In 2013, O'Donnell and Paix took to the road in the US, accompanied by Barber on drums. The promotional tour included stripped-back shows, interviews, and radio and TV live-to-airs. Enthusiastic press and support from radio had given the band momentum, and so upon returning to Australia O'Donnell quickly began work on a set of followup material that would become the next album.
O'Donnell and Paix again called Seymour into the air-conditioning of their studio, away from the heat of the 2014 Australian summer, to lay down bass tracks. Barber took his place in the drum chair and ten new songs, more outward-looking, more universal in their subject matter, took shape. The tracks were taken back to the band's second home, Nashville's Quad Studios, where Feaster pulled out his old Echoplex machine and produced a spacey, expansive mix that took the sound of the band to a new height.  Tarmac Adam's latest album, In Place, released in 2015, was the result.
The new record sits next to the previous two TA releases like the third book in a series – you know the characters, you know the themes, but the story takes you to places you hadn't imagined. In Place is where Tarmac Adam is right now, in the moment. Tomorrow's gone before it begins.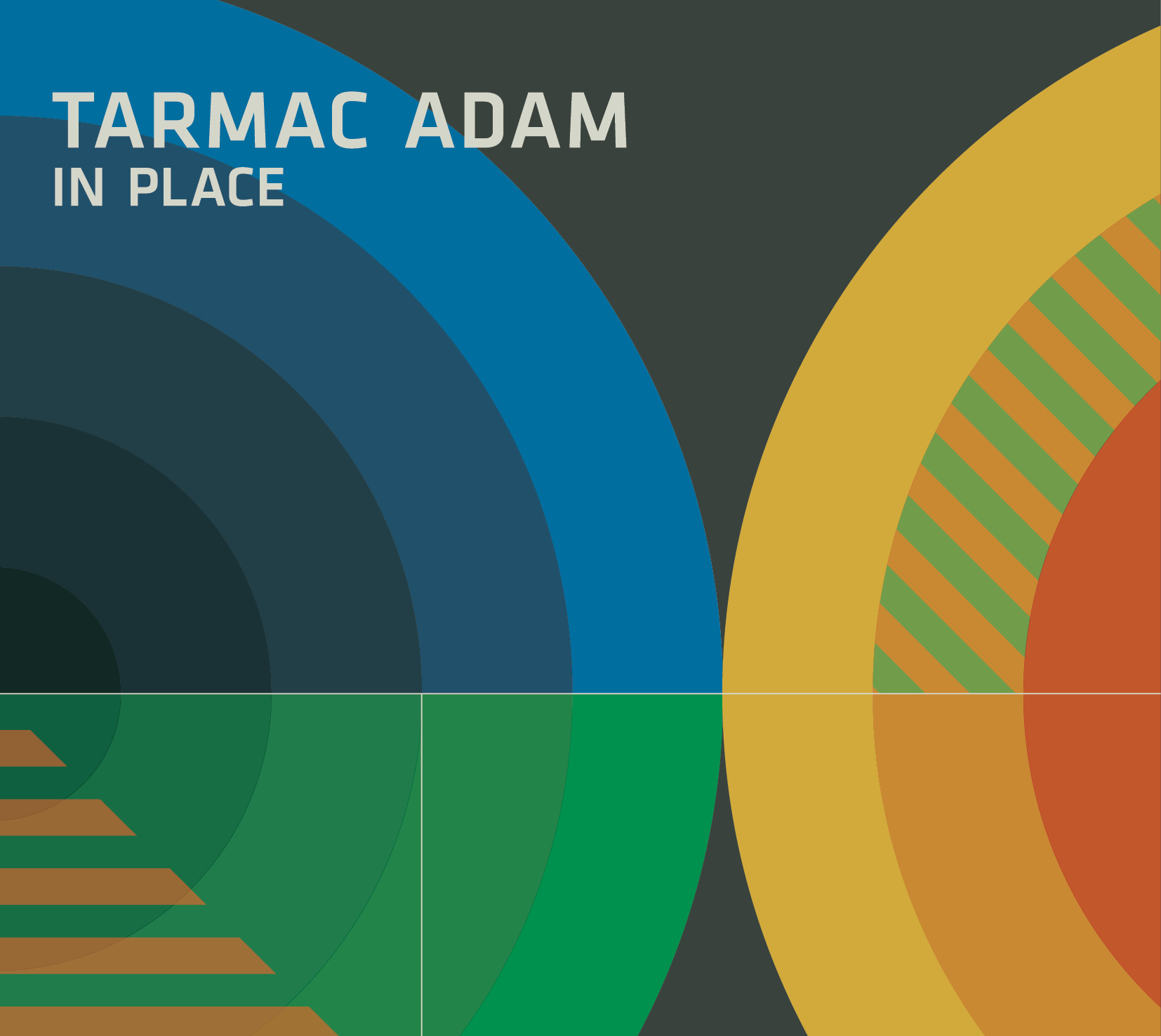 "Wonderfully warm and vibrant modern pop…"

"… the lush arrangements bring to mind Deacon Blue, Aztec Camera and the Smiths to some extent, in that they're all dreamy and desirable."

"That's what differentiates O'Donnell as a songwriter from some of his contemporaries. His words and thoughts are the type that any person can relate to because they touch on emotions that are common to every person…"